About Richard M. Scrushy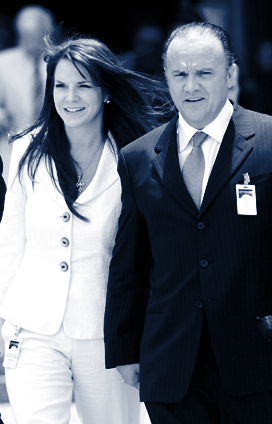 Richard Scrushy was born in 1952 in Selma, Alabama, a town known as the birthplace of the civil-rights movement. He grew up modestly in a home with working parents and he has an older sister and a younger brother. The Scrushy's attended the Methodist church, where Mr. Scrushy sang in the youth choir and participated in the Methodist Youth Fellowship. He was active in Boy Scouts and little-league baseball, and at the age of eight, Richard taught himself to play piano and guitar. Throughout school, he played piano and organ at dances and parties.
Even at age twelve, Mr. Scrushy was proving himself to be a hard worker and a young entrepreneur. He worked at a local hamburger-and-milkshake stand and as a bellboy at a local hotel. During summers and weekends, he cut grass for neighbors and the local country club. At seventeen, Mr. Scrushy pumped gas and washed cars at a filling station, apprenticed with a brick mason, and handled parts and shipping at a tractor implement company.
Mr. Scrushy is a graduate of the University of Alabama in Birmingham and holds Honorary Doctorates from Birmingham Southern College, Troy University, and the University of Alabama. Mr. Scrushy served on the Board of Trustees of the Alabama Sports Hall of Fame where he also served as Chairman for several years. He was a member of the Board of Trustees of Troy University, Birmingham Southern College and the University of Alabama. Mr. Scrushy served on the boards of numerous companies including Integrated Health Services, Caremark, Capstone Capital, HealthSouth Corporation, Russ Pharmaceuticals and Gibson Guitars.
He is married to Leslie Jones Scrushy, and is a father of nine children and grandfather of six children. He is also a commercial instrument multiengine pilot, an author, a musician and a song writer.